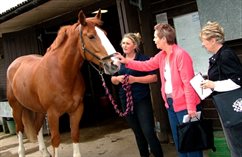 The Animal Welfare Visiting Scheme provides an independent check on the condition and welfare of police dogs and horses.
Members of the public voluntarily carry out weekly checks on the South Wales Police Dog and Mounted Section in Bridgend.
Volunteers are selected from members of the Custody Visiting Panels, who are appointed following an application process.
Why is it important?
The scheme began in 2001, following the death of a police dog at a different force. The lessons learned highlighted the need for a transparent and accountable scheme to provide public confidence in the way police animals are trained and cared for.
Although not a scheme required by law, the Commissioner and South Wales Police are pleased that South Wales is one of around 30 police forces in England and Wales to operate an animal welfare visiting scheme.
What do the visitors do?
Checks are made on the condition of kennels, stables, police dog vans and horseboxes, as well as the treatment of the animals.
Visitors are trained by a local vet, the RSPCA and Officers from the Dog and Mounted Section and the Commissioner's Office.
Reports are submitted by the visitors to the Commissioner's Office.
Is the scheme effective?
The scheme is endorsed by the RSPCA and the Dog's Trust, and means our force can receive gift dogs from the Dog's Trust if they might be suitable to be trained as police dogs.
Panel meetings are held three times a year, which involve a local veterinarian and representatives of the RSPCA, Dog's Trust and PDSA. The visits and panel meetings deal with any issues or concerns about animal welfare to ensure that the public can be confident that the dogs and horses are well cared for at South Wales Police.