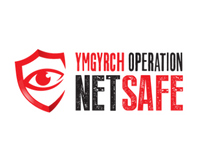 Working with the police, players from the Wales squad have produced a film, shown below, that aims to raise awareness of the dangers of individuals viewing and sharing indecent images of children and young people online and give advice to help those with concerns about their own or other people's behaviour.
The films will air at the Wales v Ireland 6 Nations game at the Principality Stadium this evening, and are also available via WRU TV and police social media channels.
Squad members Sam Warburton, Jonathan Davies and Ken Owens have helped to deliver the  powerful message that the making, viewing and sharing sexual images of anyone under 18 years is a crime – causing real physical, emotional and psychological damage to young victims.
Another key message of the campaign is that those who might have worries about the behaviour of others, and those worried about their own sexual thoughts or behaviour towards children, can access confidential advice and support through Stop it Now! .  Stop it Now! is a service which is run by the Lucy Faithful Foundation, the only UK-wide child protection charity dedicated solely to preventing child sexual abuse.
South Wales Police Assistant Chief Constable Jonathan Drake, All-Wales police lead for child sexual exploitation said:
"I'm delighted that the Welsh Rugby Union are once again working with us to help safeguard children and young people. Through Operation Net Safe the four Welsh police forces in partnership with other organisations, including the Lucy Faithfull Foundation, are tackling online child sexual abuse, supporting victims and bringing offenders to justice.

"Like elsewhere in the UK, the scale of the problem in Wales is both shocking and saddening. Operation Net Safe is enabling us to tackle these crimes using the latest technology to identify offenders and bring them to justice.

"Often offenders can convince themselves that there isn't a victim because the images already exist online and they don't have direct contact with the children or young people involved. But those children were abused and exploited to make those images and those in possession of these images are fuelling the demand for this explicit material."
Mr Drake added:
"The more the public are aware of the dangers of online child sexual exploitation and what help and support is available the more we can all do to keep children and young people safe. Thank you to the WRU for once again agreeing to use their considerable influence to help us deliver these important messages."
Alun Michael, Police and Crime Commissioner for South Wales, said:
"We are extremely grateful to the Welsh Rugby Union for helping us to highlight and tackle this issue."

"What we are trying to achieve together is earlier identification of offenders and victims so that we have the opportunity to intervene to stop online child abuse and exploitation, and most importantly to take prompt, positive action to safeguard victims and protect children at risk from this type of abuse."
Donald Findlater Safeguarding Consultant at the Lucy Faithfull Foundation (LFF) said:
"It remains the case that too many men in Wales and elsewhere across the UK, see no problem with viewing sexual images of under 18s online. For most this seems to be part of an existing heavy use of legal, adult pornography. But for others they clearly have an established sexual interest in children or young people which urgently needs to be addressed.

"Whatever their motivation to view these images online, they need to be in no doubt that their behaviour is illegal, and harmful to those in the images, and that the police across Wales have increased their capacity to tackle this crime area. The risk of getting caught are increasing and the consequences for their families, and themselves can be severe. It is imperative that they stop their illegal behaviour, and stay stopped. Help is available to do this.

"The Stop it Now! confidential helpline speaks with over 1000 men troubled about their illegal online behaviour each year. Our online self-help resources help users to learn the skills to stop their illegal behaviour. Our services are used by thousands of men after arrest; but they are equally available to men before arrest to help them and their families tackle their behaviour today.

"LFF is delighted to support Police across Wales in promoting Operation Net Safe. We are delighted at the support of the WRU – real men challenging other men to take a hard look at their online behaviour and keep it legal. Children are seriously harmed in the making and viewing of sexual images of them online. In partnership with police, WRU and others, we are determined to see a massive reduction in the abuse of children online. The public have a vital role to play, so please contact police or Stop it Now! to play your part in keeping children safe."
Jeremy Rogers, WRU Club Operations Advisor – Safeguarding added:
"The key principle of safeguarding is working together, and we work closely with all our clubs and statutory agencies to ensure that safeguarding children is prioritised. The support of the WRU and other sports in Wales for the 'STOP IT NOW' campaign is an example of how we can work together effectively to raise awareness."