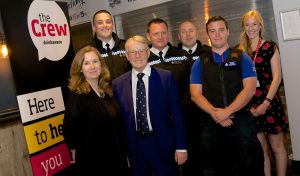 Since its introduction in September 2016, Club Crew have been deployed within night time economy venues throughout South Wales and have successfully supported over 520 vulnerable individuals. 
Club Crew are trained staff who work in night time economy clubs and venues to support the welfare of venue customers on designated student nights. Working in pairs, Club Crew interact with customers to help promote a positive social atmosphere and provide assistance to those who may be vulnerable as a result of excessive drinking.
Through collaboration between the Police & Crime Commissioner, Drink Aware and the South Wales Student Unions, there has been over 622 activities carried out by Club Crew which has reduced the demand placed on frontline emergency services.
Assistant Police & Crime Commissioner Bonnie Navarra said:
"These results demonstrate the positive impact of the Club Crew within our student communities. By engaging directly with their peers, the Crew are able to take prompt, positive action to protect those who have become vulnerable due to alcohol and in turn this is reducing the demand placed upon ourselves and our partners.
"Club Crew features as part of our strategy to prevent harm and keep our vibrant night time economies safe. Prior to commencing their role, individuals undertake in-depth training which is supported by Drinkaware, to fully equip those who undertake this vital role."
Assistant Chief Constable Richard Lewis said:
"Since their integration into our after dark and night time economy  policing operations, the Club Crew scheme has provided a great insight into the student population but also has allowed us to better understand and serve our communities.
"Club Crew have been able to take care of those who are already vulnerable due to excessive alcohol consumption or, more importantly, carry out preventative activities to prevent individuals becoming vulnerable. This area of education and intervention is one which we see as important in protecting young and often vulnerable people from harm.
"This initiative is one of a suite of current operational activities aimed at keeping our night time economy safe for all our communities."